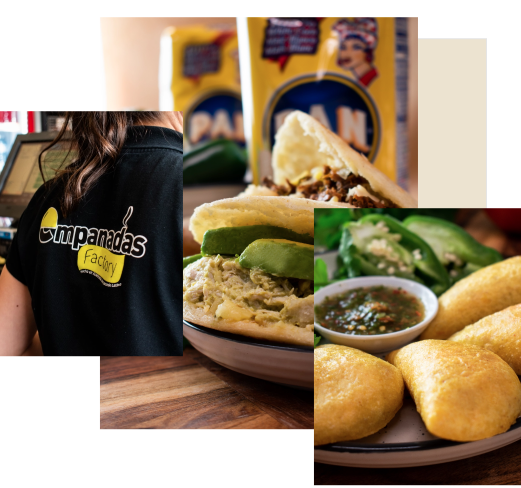 We offer a wide range of south American Products in our shop located at 130 Victoria Road, Rozelle, NSW.
From fresh food including burritos, arepas and off course, Empanadas to those traditional groceries and frozen products.
"Colombian Connection Coffee (Aka Mule Coffee) is a Specialty Coffee house dedicated to source the finest coffee beans around Colombia, whilst making sure they are sustainable and ethical grown and traded. 
The Signature Blend is a rich and well-balanced medium roast.
It delivers raw chocolate notes blended with ripe cherries and hints of sweet Cardamom, leaving a roasted sugar cane after taste. 
La Bomba, our single origin of line, is sourced from a National Park in Quindio-Colombia. Grown by Cesar Buesaquillo this medium-light roast delivers passionfruit and wild berries notes with a herbal hint."
Yes, we have some option for that great event you are planning. They are deep fried and one of the tastiest additions is ají, a spicy sauce made with vinegar, peppers, herbs.
From 50 to 100 empanadas, 10% off
More than 100 empanadas, 15% off
Looking for
cheaper options??
Making empanadas at home has never been easier. Our retail bags comes with 10 empanadas and are suitable to prepare in the oven, air fryer or deep fryer.
It only takes 6 minutes!!!
No wastage!!
Empanadas Factory is specialised in south American food with high standards of quality making all our products free from artificial flavours, additives, or preservatives.
We are allergies friendly as our Empanadas are made of corn (Gluten Free), no eggs, or nuts in our recipes plus we have a variety of flavours to make vegetarian, vegan and dairy free versions.

130 Victoria Road, ROZELLE NSW 2039, Australia
Monday

6.00 - 15:45

Tuesday

6.00 - 15:45

Wednesday

6.00 - 20:45

Thursday

6.00 - 20:45

Friday

6.00 - 20:45

Saturday

7.00 - 20:45

Sunday

6.00 - 15:45