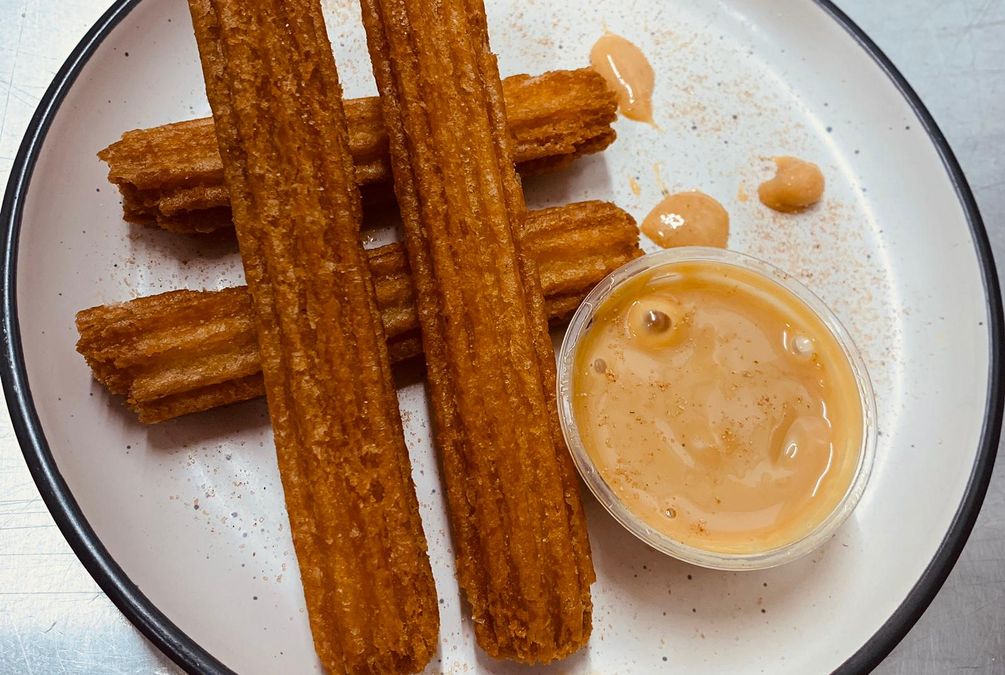 Churros with Dulce de leche (caramel)
$ 7
Beef Arepa
$ 12
Shredded beef, sour cream and tasty cheese
Chicken and Avo Arepa
$ 12
A tasty mixed of shredded chicken, Guacamole, Mayo, mustard, sour cream and tasty cheese.
Ranchera Arepa
$ 12
Hot chorizo, guacamole, beans and cheese.
Vegetarian Arepa
$ 12
Guacamole, fried egg, beans and haloumi
Vegan Arepa
$ 11
Guacamole, beans and sweet plantain
Hot Chorizo (pork)
$ 3.70
Burrito
$ 12
Latin american beans recipe mixed with rice, cheese, salsa, chipotle, sour cream and your choice of filling.
Nachos
$ 14
Corn chips, beans , cheese, guacamole, salsa, sour cream. your choice of chorizo, shredded beef, shredded chicken or haloumi
Calentado
$ 15
Mix of rice beans and salsa with a selection of chicken, pork, chorizo or haloumi, comes with fried egg and arepa.
Breakfast Burrito/GF Corn Pocket
$ 12
Scrambled eggs, guacamole,cheese and a selection of chorizo, bacon or haloumi
Bacon and Egg
$ 7.50
Roll Or GF Corn Pocket
GF Cheese corn bread (Arepa de Queso)
$ 5
GF Sweet Corn Bread (Arepa de choclo)
$ 6
Guacamole on Toast/GF Corn Bread
$ 7
Guacamole on sourdough or GF corn bread.
Choripapa
$ 10
yellow, potato with chorizo, guacamole and salsa.
*Click the button down below to check our full menu and order from our online store
Check Our FULL MENU & Order

130 Victoria Road, ROZELLE NSW 2039, Australia
Monday

6.00 - 15:45

Tuesday

6.00 - 15:45

Wednesday

6.00 - 20:45

Thursday

6.00 - 20:45

Friday

6.00 - 20:45

Saturday

7.00 - 20:45

Sunday

6.00 - 15:45